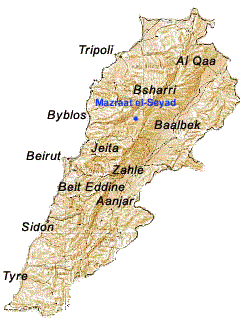 Mazraat El-Seyad
The current home of the Gharios family is the small town of Mazraat El-Seyad, also known as Aboud, which overlooks the valley of Nahr Ibrahim and the Adonis (Abraham) river, within the mountainous region of Jbeil (Byblos)
The description below is a translation of the Arabic, shown right, as it was stated in the encyclopedia Know Lebanon by Afif Boutros Merhej first published in Beirut in 1970
Video Clip of the town (5MB in size, best download with Broadband)
Casa Jbeil - Elevation 1250m
Distance from Beirut 58km - from Jbeil 23km
Population (1000 in 1973) Today 1850
Number of houses (100 in 1973) Today 225
Number of electorate (350 in 1973) Today 1200
Origin of the name: The name which literally means El-Cid Farm after the Hoseini family who came to it from the Bekaa Valley
Official buildings: Mazraat El-Seyad is under the jurisdiction of Kartaba as well as the Police and the Post Office. However it has its own 'Moukhtar' (Registrar)
Schools: a primary school
Clubs: Mazraat El-Seyad Social, Cultural and Sport Club
Local holidays: Feast of the Virgin Mary's Birth, 8th September. Mar Abda (the last Sunday of August)
Families: Hoseini, Gharios, Abi-Akar, Obeid, Ziede, Khoury, Karam, Medawar, Karkaba
Major agricultural produce: Apples, other fruits for the local markets
Major figures: Mr Ahmad Husseini (ex deputy and minister), Mr Ali Husseini (ex deputy)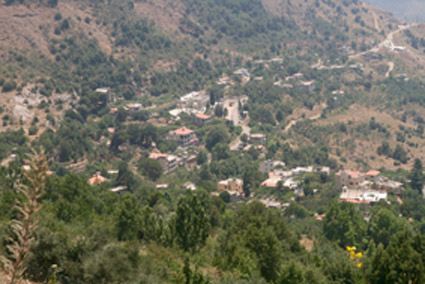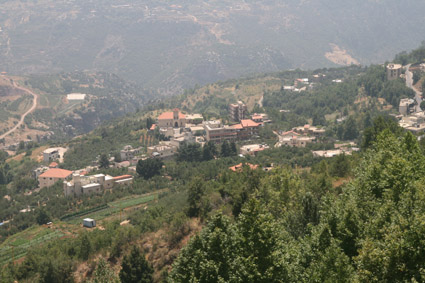 Local Election Results 2016
Congratulations to all those elected.

Local Election Results 2010:
Democracy is alive and kicking and the people of Mazraat el seyad have spoken for the second time and elected the following: Congratulations to the winners and hope they work tirelessly for the benefit of the people they represent.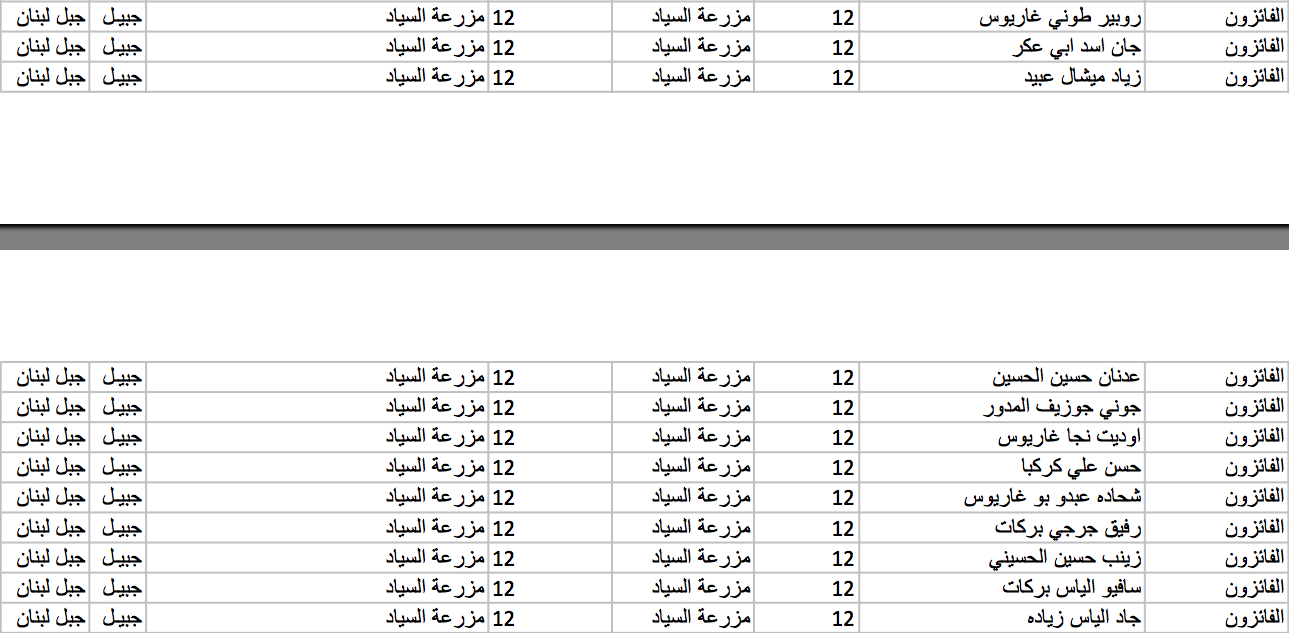 Local Election Results 2004:
Mr Daniel Bou-Gharios (Leader)
Mr Jamil Husseini (Deputy)
Mr Zakhia Abi-Akar
Mr Naja Bou-Gharios
Mr Hussein Bou-Sleiman
Mr Adnan Husseini
Mr Kozhaya Karam
Mr Kozhaya Obeid
Mr Murchid Zaarour
Mr George Naja Obeid was also elected as the Moukhtar
Afqa
The valley of the Ibrahim River, the ancient Adonis, is famed for both its historical and religious significance. A wild and beautiful area, in pagan times a pilgrimage road ran along its north side to Afqa, scene of the tragic love story of Venus (Astarte) and Adonis.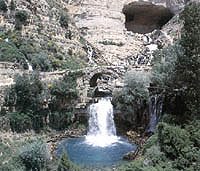 Afqa is the sacred source of the Adonis River (modern Nahr Ibrahim), where the waters emerge from a huge grotto in a cliff 200 meters high. It is here that the myth of Venus and Adonis was born. The story goes that while out hunting, Adonis was killed by a wild boar. Venus (the Phoenician goddess Astarte), who was his lover, tried to save him but she was too late. And so it is the blood of Adonis that each spring turns the torrential river to red.

Across from the grotto are the remains of the Roman Temple of Venus. Walk down the stone steps at the side of the structure to appreciate its massive size. A curved tunnel, still visible beneath the foundations, was used to channel water. Growing from between the temple's great stones is a fig tree with bits of material tied to its branches, a carryover from ancient tradition which attributed special powers to this spot. Although the temple was destroyed by the Christian Emperor Constantine (285 - 337 AD), it was later rebuilt by Julian the Apostle (362 - 363).

The Adonis-Astarte fertility rite continued in Lebanon into the 5th century AD.